Navigate the Depths...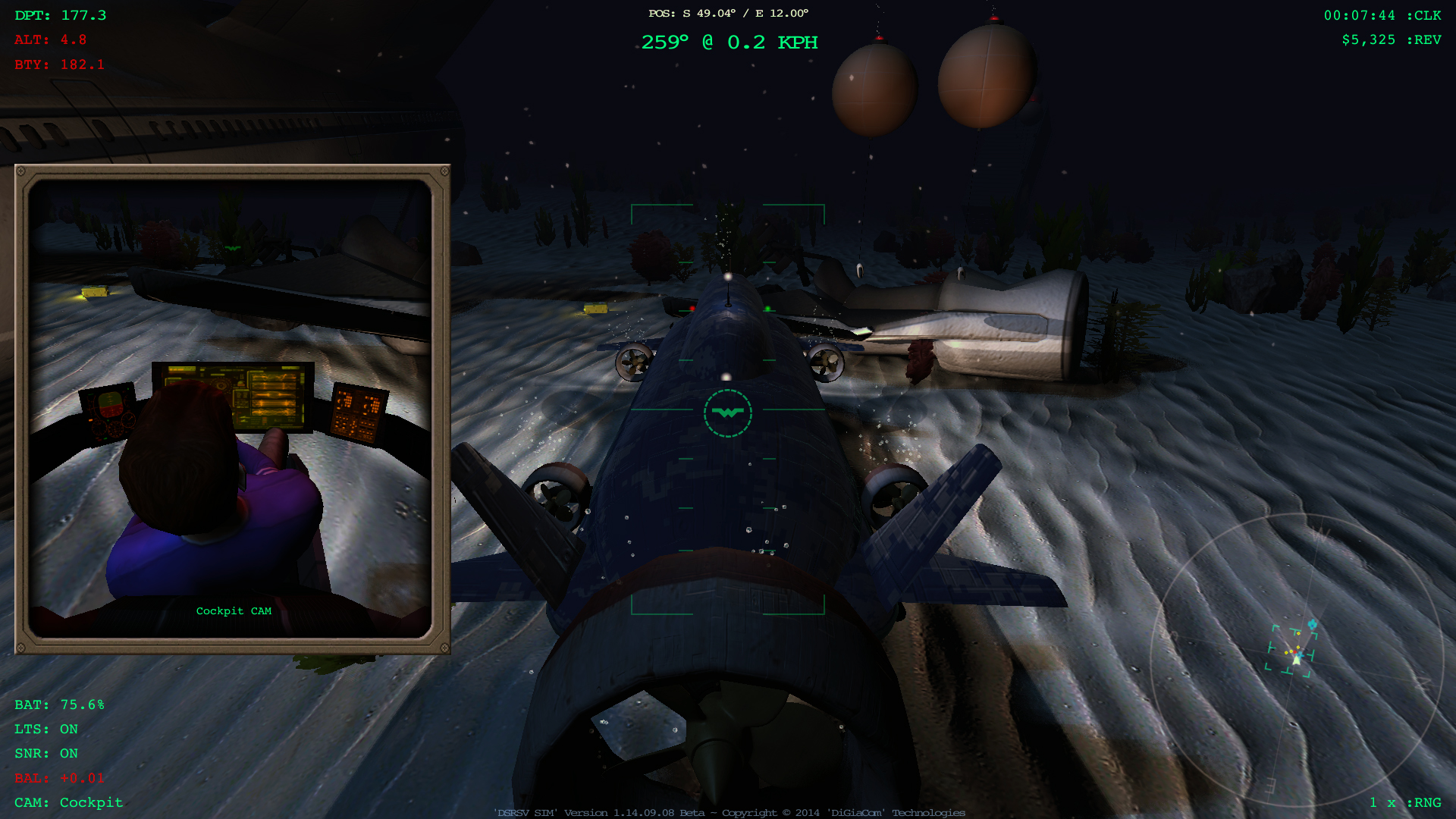 More About The Game...
Environment
A single 4 km x 4 km undersea environment is provided with varying terrain with coastal shallows and canyons up to 600 feet deep. All flat terrain is covered with various sea vegetation, rock outcroppings, and/or coral formations. A randomly generated/ever changing undersea current is also simulated that causes all floating objects to drift along with the prevailing current. Ambient lighting also decreases with depth along with randomly changing visibility.
Salvageable Objects
Each salvageable object has a distinct Sonar sound, including Doppler shifts, to help you locate them aurally. These objects will also be represented on the Sonar screen (bottom right) to assist you in finding their exact location.
Each salvageable object recovered will earn the player the following amounts of money:

Aircraft Transponders (depending on aircraft size) ... Ranging from $5,000 to $20,000
Shipping Containers (random, in $250 increments) ... Ranging from $750 to $10,000
Aircraft Wreckage (depending on the size/weight) ... Ranging from $100 to $5,000
Vehicles:

Tanker Truck ... $500
Flatbed Truck ... $400
Van ... $200
Car ... $200

Oil Tank ... $350
Dumpster ... $100
Concrete Pipe ... $50
Flotation Devices ... -$10
Main Ballast Ejected ... -$1,000
Game Controllers
The simulation can be controlled via any standard game controller, mouse, and keyboard or any combination. For keyboard users, please note that translation (lateral movement) is performed via the WASD keys and turning (rotational movement) is controlled via the arrow keys. Most control inputs will also display a status message just above the HUD.
Future Development
Buy better sonar, faster propulsion, stronger flotation devices, tagging transponders, etc.
Tag locations of Sunken Ruins, Ships, Volcanic Vents, Prospecting, Whales
Multiple/larger undersea environments of varying depth and complexity
Rescue Operations on Downed Submarines & Research Bases
Collision & Pressure Damage
Mission & Free-Play Modes
Downloads...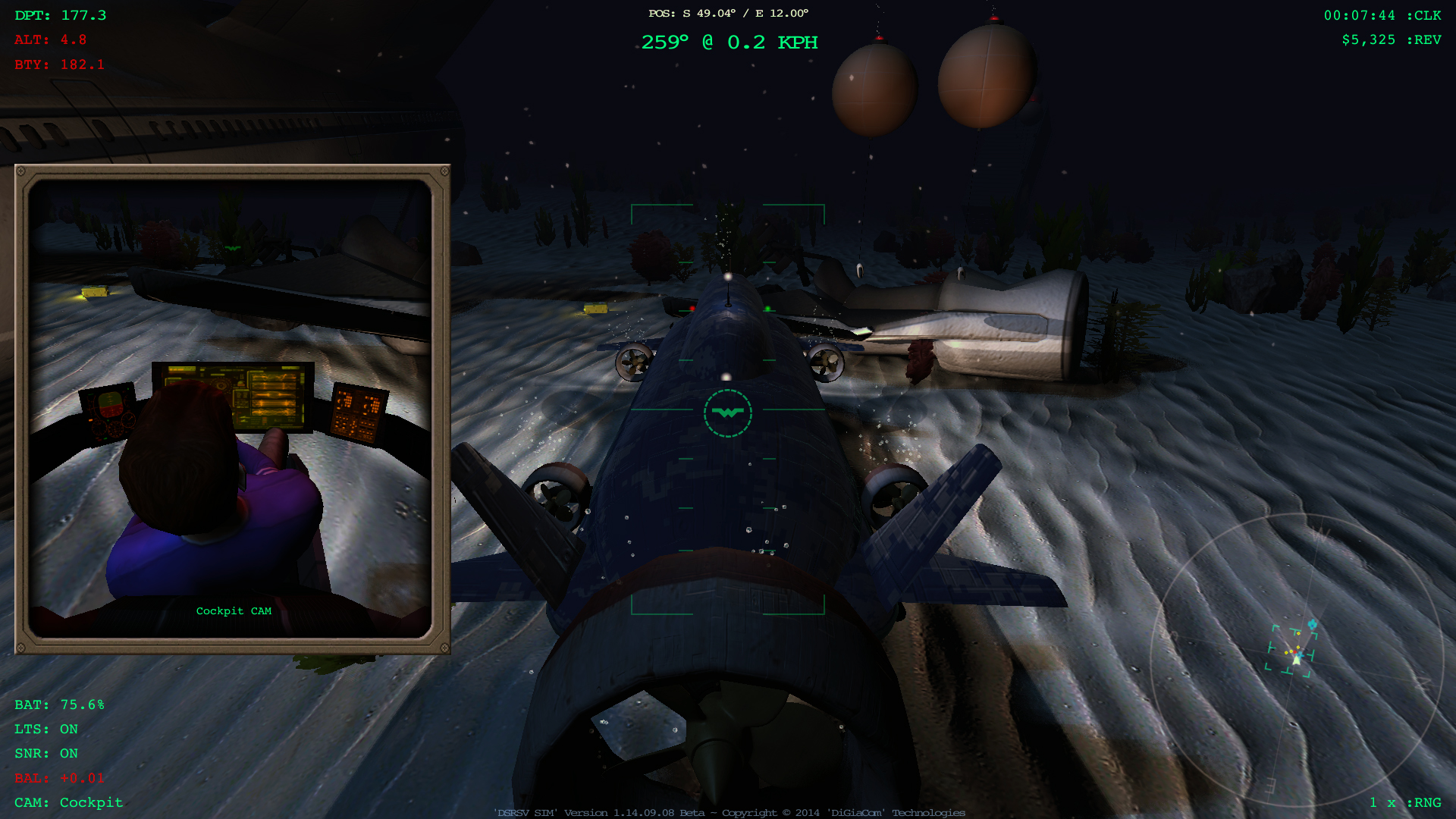 PC Versions

Zip file - 64 Bit (418 mb)
---
Donations
As with any game development everything takes time and money, which are the same things of course. So if you like what I'm doing here and want to support the further development of this project them please show your support by donating whatever you thing you can afford.


About 'DiGiaCom' Technologies...
I've been involved in gaming for over 30+ years now and have been working with computers and developing various applications for about the same amount of time. Today, I'm working for a prominent company developing high-end database management applications for major US companies, State & Local Police, as well as the US Military. In my free time I'm working hard at game development using Unity 3D and I'm fully licensed for versions 4 & 5.

My goal is to create games that are intuitive and easy to play, especially for people who may not have extensive computer gaming experience. I'm sure that once you start playing my games you'll encounter hours of enjoyment, you'll also find they exceed what you would expect from most products in the same price range.

Thank you for your interest in my games … I'm sure that you will enjoy using it!

TTFN - DJ

DiGiaCom Technologies, Inc.


---
If you have any questions, advice, or other information related to this game or any of our projects you can email me at website@digiacom.com.